The Nuts and Bolts of Getting Equipment Overseas
Distributor uses ATA Carnets to showcase mission-critical testing devices
By Bill Armbruster for USCIB
When you are traveling with high-value goods overseas, it helps to have things nailed down in advance.
Gregory Young, vice president of International Bolting Technologies Inc., remembers the hassles he used to have when traveling outside the U.S. to demonstrate to potential foreign customers sophisticated electronic equipment. To ensure that the product cleared Customs, Young hired a Customs broker in the foreign country to file documents for temporary admission and air freighted the equipment four weeks before his (Young's) arrival to demonstrate the equipment. Once the job was complete, he again air freighted the product back to the U.S. using a second broker to clear U.S. customs.
"Depending on the country, those steps alone could cost up to $2,000," says Young. "Furthermore, many countries require that goods brought in under temporary admission be returned to their original point of entry, so making a multi-country trip is not practical."
The USM-3 Ultrasonic Bolt Meter measures bolt stretch, as little as 0.00001 inch or 0.0001 millimeter, and diagnoses problems caused by the over- or under-tightening of bolts. "Improper bolt stretch can result in catastrophic failure," adds Young. Industries using the USM-3 include aerospace (It was used on the payload of STS-125 - Hubble Repair Mission 4.) to automotive, mining and petrochemical refineries. International Bolting Technologies, based in Orange City, Florida, is a distributor for Norbar USA, which manufactures the bolt meter in Connecticut.
In 2008, when a customer recommended to Young that he try an ATA Carnet for demonstrating his equipment to Finland and Russia to potential customers there, Young was all ears. "The U.S. Export-Import Bank had mentioned the ATA Carnet to me previously, but at that time I did not grasp how it could truly benefit my situation," Young says.
Carnets are an internationally agreed customs document that allow for the temporary tax- and duty-free entry of goods into 87 countries and territories. Customs duties and VATs (value-added taxes) vary widely around the world. In the European Union, the minimum VAT is 15 percent with Finland at 23 percent. In Mexico, the VAT ranges from 10 to 16 percent. Duty is imposed on top of the VAT.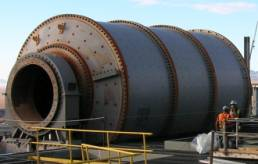 The USM-3 is an expensive, cigar box-sized device. Carrying it by hand, before he started using Carnets, caused Young a lot of anxiety, as he was often required by customs to surrender physical possession of the unit. "Customs forms ask whether you have any commercial merchandise to declare. Due to the high value of the goods, Customs would take them from me and place them in storage, leaving me with just a receipt. They would only return the goods after a customs broker had filed the necessary documents for temporary admission," Young says. "Customs clearance could take days, depending on the country," he adds. With the Carnet, Young carries the USM-3 with him and clears customs without the aid of a broker.
Young has used Carnets five times, most recently in October on a trip to the International Mining Expo in Acapulco, Mexico. "The Carnet made everything a lot smoother," he says, noting that the equipment attracted considerable attention. He expects the leads he developed at the Acapulco show will translate into sales for his three-person company. Exports account for about half of its business, so by cutting red tape, Carnets allow Young to concentrate on sales. "It's a short turnaround, and it's very affordable," he says. Carnets cost $215 to $355, depending on the value of the product
Young expects that his next overseas trip will be a two-week visit to three or four countries in Europe next May. Asked whether he plans to use the Carnet then, he replied, "Absolutely. It would be too time-consuming and expensive to go back to the old method. I would never even consider taking one of my products to another country without a Carnet."
For more information about carnets go to www.atacarnet.com or call the boomerang carnets® HelpLine® at (800) ATA-2900 or (800) 282-2900.
Boomerang carnets® is an appointed service provider for the United States Council for International Business an affiliate of the International Chamber of Commerce.
Boomerang carnets
Southwest Sales Office, Dallas, TX
Contact: Moira Wilson, Moira@ATACarnet.com, 847-852-3104