Carnet de Passages en Douane CPD Issuing in US and Canada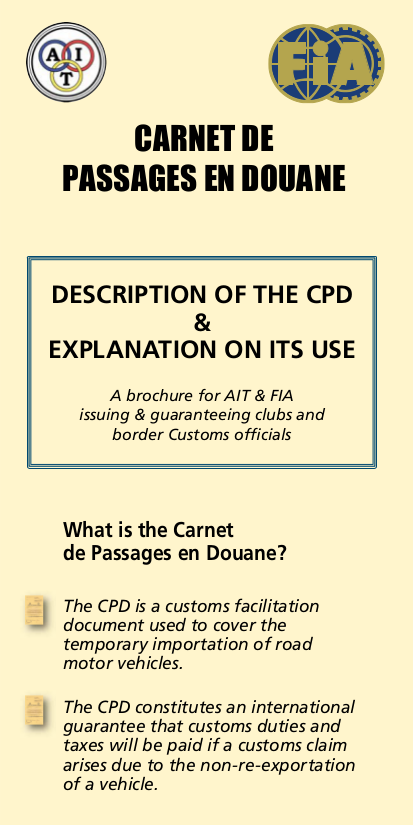 Get More Information or a Cost Estimate
Carnet de Passages en Douane (CPD) are administered and issued in the United States and Canada by boomerang carnets®. There is a separate website for CPDs. Typical vehicles temporarily exported for personal use that are eligible for a CPD Carnet are:
automobiles
trailers
recreational vehicles
caravans
motorcycles
The Carnet de Passages en Douane, or CPD, is the international customs document which covers the temporary admission of motor vehicles. It is accepted as a customs declaration which makes it possible to identify a motor vehicle temporarily imported. It also incorporates an internationally valid guarantee to cover import duties and taxes and secures their payment should the vehicle not be re-exported. The CPD is still required today in numerous countries around the world for the temporary admission of private automobiles, commercial vehicles or other categories of motor vehicles.
Advantages of the CPD System
Where the CPD is required, there are distinct advantages for individual travelers as well as for national customs administrations. The CPD eliminates, above all, the need for cash payment and reimbursement facilities.
The CPD constitutes an internationally-recognized guarantee.
For the customs administrations, there is no need to collect and reimburse cash deposits.
For the customs border posts and officers, there is one single easy-to-recognize document that covers private and commercial vehicles.
The CPD helps to discourage the violation of temporary importation laws.
The CPD helps to curb arbitrary procedures by customs officers.
For the national customs authorities, the AIT/FIA CPD offers a link to the vehicle owner or driver if a vehicle is not re-exported, or if any other problem arises.
For the tourism industry, the CPD helps ensure that travelers and their vehicles can cross national borders with greater speed, fewer formalities, and without on-the-spot payment of additional fees or guarantees
Countries in which the CPD is Required, Recommended or Accepted
This list may not be up to date due to changes in customs formalities or border procedures. Certain countries may accept the CPD even though they fall outside the AIT/FIA customs documents network. Countries may appear in this list but NOT on the CPD cover, notably those in which there is no AIT/FIA guarantor association.
In certain countries of Africa, Asia, the Middle East and Central & South America, the CPD is not officially required, but is sometimes used to facilitate temporary importation.
The CPD is not required in Europe for private or commercial vehicles. In Belgium, Denmark, Finland and Greece, the CPD is used only for special categories of vehicles such as racing cars, ambulances, etc. In Turkey, the CPD is accepted, but a local document may be purchased at the border in place of a carnet. The CPD is useful in Turkey for buses, radio/TV vehicles and breakdown vehicles
CPD website for US and Canadian applicants.
Requirements for using a CPD differ from country to country so consult with a Carnet Specialist prior to applying.