The Boomerang Benefit for the Creative Screen Industries
Media Carnets Powered by Boomerang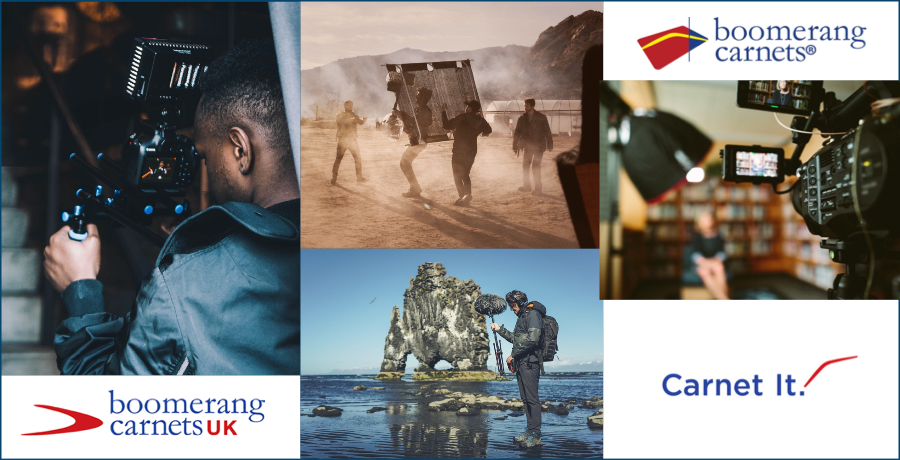 Boomerang carnets® is the leading carnet provider for the U.S. and U.K. creative screen industries, the largest and fourth largest in the world, respectively. International shoots can draw artists and equipment from multiple countries, simultaneously, for the same project. Cameras from the U.K., and special effects equipment, or costumes from the U.S. headed to the same international destination for a shoot happens frequently. With boomerang carnets located in both the U.S. and U.K., we have provided ATA Carnets to meet such demands. This convenience is the Boomerang Benefit, unique to boomerang carnets.
The ATA Carnet is an internationally accepted customs document for temporarily exporting merchandise, goods, or professional equipment. Use of a carnet allows cross border movement of goods import-duty and -tax free into any of the 87+ carnet countries and territories for up to a year. Also known as the Merchandise Passport, ATA Carnets are used by many industries in many sectors. The ATA Carnet makes clearing Customs easier, saving you valuable time. Carnets also serve as the registration of goods with Customs upon re-entry to the U.S. or U.K. saving you additional paperwork and cost. ATA Carnets are used for camera bodies, lenses, tripods, lighting equipment, drones, UAVs, monitors, hard drives, computers, batteries, sets, props, costumes, and more.
Media Carnets
Media Carnets, launched by boomerang carnets in 2021, serves the creative screen industries. Operating in the U.S. and U.K., Boomerang's Media Carnets provides expert 24/7 service tailored for the media production industries. Media Carnets' creative screen industries specialist, Eric Huyton, has worked as a freelance documentary cameraman for 30 years with many production companies including the BBC, Sir David Attenborough, and travelled extensively throughout the world with high value filming equipment using ATA Carnets hundreds of times. You can reach Eric Huyton directly with questions about ATA Carnets by email. No other carnet provider has an expert from the creative screen industries to guide you, another Boomerang Benefit. Eric understands the business intimately. "Our industry is not a 9 to 5 business and last-minute changes to schedules and kit are commonplace, so we're set up to be flexible, understanding and to provide a same day delivery service when it's needed."
The Location Guide FOCUS 2022
We're proud to be returning for the 7th year as an Exhibitor at FOCUS 2022, the international production conference taking place in-person 6-7 DEC in London and virtually 8-9 DEC. Meet Eric and Boomerang's Managing Director, Curt E. H. Wilson. They will present ATA Carnets: The Boomerang Benefit, 6 Dec at 14:50-15:30 London time. Screen professionals from over a hundred countries will network, be inspired, and discover insight into global production. If you are attending FOCUS 2022, we hope to see you there.
Whatever your needs, Boomerang's Carnet Specialists offer expert customer service. We are here to assist you 24/7, just call the Carnet HelpLine® 1-800-ATA-2900 | 1-800-282-2900 or email us. Also, if you want to ship by cargo, Boomerang has freight forwarder partners who can deliver your carnet to you, as well as handle your freight.