ATA Carnet Training Day for U.S. Customs and Border Protection
Boomerang's Expertise Requested by USCBP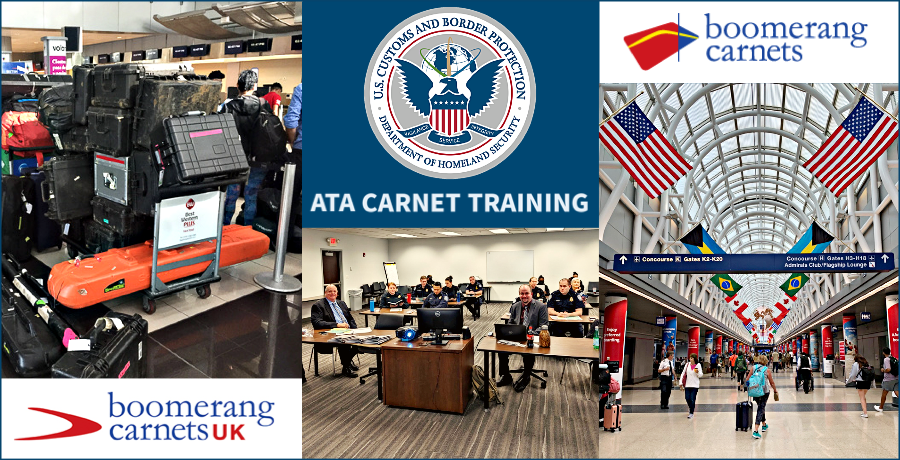 At the start of the new year, boomerang carnets ® was approached by U.S. Customs and Border Protection (USCBP) requesting a day of training for officers seeking to learn about the ATA Carnet, the unified customs document used by a wide spectrum of business sectors and individuals. Merchandise covered on an ATA Carnet can range from aerospace technology to musical instruments, film/TV cameras and equipment, live horses, and much more. ATA Carnets make temporary exports across borders with merchandise affordable and expedient. Boomerang welcomed the opportunity to share our knowledge with USCBP on this versatile trade tool for temporary exports.
The ATA Carnet is an internationally accepted customs document for temporarily exported merchandise or goods. It allows cross border movement of those goods import-duty and -tax free into 87+ carnet countries and territories for up to a year. The ATA Carnet is known as the Merchandise Passport for boomerang freight® and ideal for professional equipment, goods, or commercial samples moving in and out of countries.
Representing Boomerang and conducting the training were Curt E.H. Wilson, President/CEO, Monika Jadeszko, VP Global Carnet Operations, and Kiel Ursin, Carnet Specialist. There were two sessions that took place on the same day, a morning and afternoon session. The turnout was more than expected. Monika Jadeszko was very pleased, "We were expecting 25 officers and 35 showed up! They were great learners and asked a lot of questions." Though this was not the first time Boomerang has been asked to present a training for USCBP Officers, it is the first time since the COVID lockdowns, and it was great to be back.
The material covered in each session was a combination of ATA Carnet basics as well as information tailored to USCBP Officers. After introductory remarks, the presentation began. Our objective in the training sessions was to provide consistent, documented instructions on the use and function of ATA Carnets. Some of the subjects covered included the following:
Use of the ATA Carnet

Conditions of Use

Claims

Customs Support

Further Training
Additionally, components of the ATA Carnet document were explained in detail. The purpose and content of each of the different colored pages of the carnet document were examined. Officers learned what the Green, Yellow, White, and Blue sheets of paper represent and their responsibilities with the document itself. The information was well received. Boomerang is always honored to provide our expertise to the service of our USCBP Officers who are tasked with an important responsibility. It was a great day with stimulating exchanges in the Q&A periods. The sessions may have ended, but with Boomerang, the lines of communication are always open to USCBP Officers when they need our assistance and expertise on the job with an ATA Carnet.

CBP Training Page on the Boomerang Website
There is also a Resources and information page on the boomerang carnets website dedicated to CBP Training welcoming all officials of U.S. Customs and Border Protection. It contains essential information and links to Directly Access Boomerang for immediate assistance with an ATA Carnet or exporter-importer when needed. Essential information on the ATA Carnet can be easily referenced and accessed at any time with our convenient "Carnet Quick Links." For In-Depth Training, you can download a detailed PowerPoint Training Presentation designed for CBP. To Understand, Explain, Find solutions, Download Info, and Directly Access Boomerang, here is the link: CBP Training | ATA Carnet.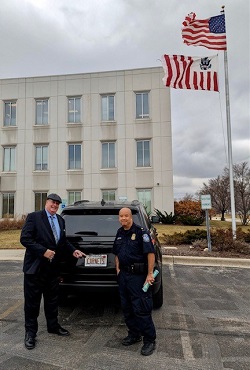 From Curt E.H. Wilson: "We are in front of Customs at least once a week hand delivering ATA Carnets to customers who need their carnets in quick turnaround times. From journalists, camera crews, or any number of businesses on a tight deadline we are there for you."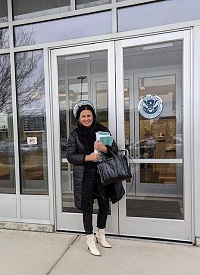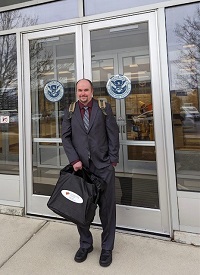 Whatever your needs, Boomerang's Carnet Specialists offer expert customer service and are here to assist you 24/7. Just call the Carnet HelpLine® 1-800-ATA-2900 |1-800-282-2900 or email us. Also, if you want to ship by cargo, Boomerang has freight forwarder partners who can deliver your carnet to you, as well as handle your freight. Ask about our Boomerang Freight Solutions when you call or email us.
For ATA Carnet news and updates subscribe to our eNewsletter: Exportise