Boomerang Carnets Supports World Trade Week in the Heartland
Boomerang carnets® was once again honored to have the opportunity to sponsor and participate in the World Trade Week in Nebraska

The Midwest International Trade Association (MITA) World Trade Conference held last May 13, 2014 at the Embassy Suites in Omaha-La Vista was a very successful, well-organized educational experience. A day-long event highlighted export successes and provided export education. International trade successes were recognized. Fun was added by sponsors that raffled off prizes.
Nebraska Leads US in Export Increases
Starting and growing business in Nebraska and other midwest states creates even greater opportunities now with the government support for economic development and key federal trade promotion agencies. Nebraska is currently the number one cattle feeding state in America and has over a 200% increase in global exports. Nebraska also, with the leadership of Governor Dave Heineman and Lt. Governor Lavon Heidemann, conducted approximately 30 trade missions in the past year including reverse trade missions from Brazil, South Korea and South Africa.
Nebraska Companies Honored
Jack Link's Beef Jerky Executive Vice President Karl Paepke and Nebraska Furniture Executive Vice President Bob Batt both shared their company's success stories from humble beginnings and gave some helpful keys for growth to SMBs. Governor of Nebraska Dave Heineman graced the conference and awarded Preferred Popcorn as Exporter of the Year and Nebraska Furniture as Importer of the Year. (Omaha World-Herald article)
Boomerang carnets® Educates Attendees about ATA Carnets at a Table Top Exhibit
Featuring ATA Carnet information, boomerang carnet'®s exhibit table was hosted by Anva Nuguid. She noted it was great to see Meredith Bond of the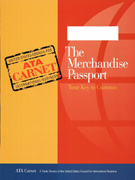 US Department of Commerce, Patricia Eskilsen of Valley Irrigation, Holly Heffelbower of Bedient Organs, Gedinimas Marauskas of the Lithuanian American Community, Ryan Stowe and Mike Contreras of International Logistics among others stop by to learn about carnets. Ashley Franco of Werner Enterprises, one of the sponsors/exhibitors, and some young foreign students from Japan, Kazakhstan and South Korea from the University of Nebraska Omaha were present as well.
MITA Officers Were Very Grateful for Sponsor Support
MITA President Keith Larsen of McGrath North and Gloria Penas along with the MITA officers dropped by each sponsor including ours to convey their appreciation of our support.
The conference ended with raffling off prizes from various sponsors. Our congratulations once again to Sandy Osborn of Valmont Industries, Inc., for winning the boomerang carnets® Cross multi-function pen.