The Best of ATA Carnets at the Massachusetts Export Expo
Reduce Costs, Save Time, Preserve Cash Flow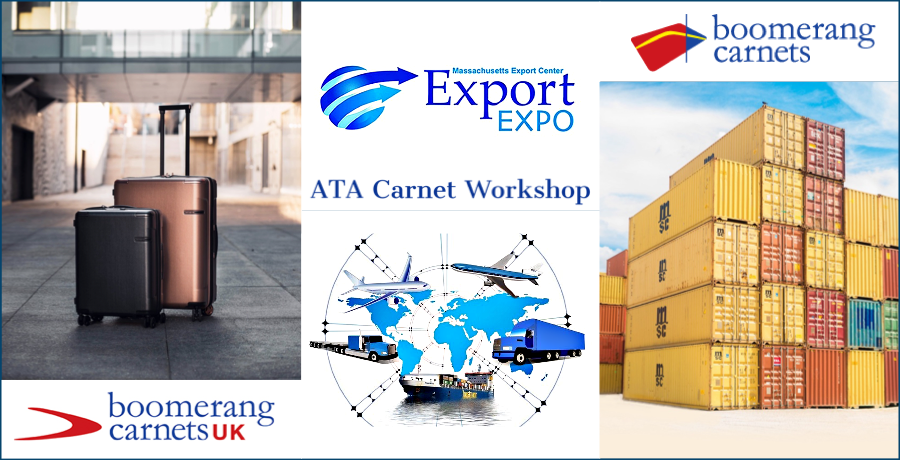 Boomerang carnets® sponsored the 13th annual Massachusetts Export Expo held virtually on January 26-27. The conference is Massachusetts' largest and most important export event of the year bringing together resources, training, and information where exporters can connect, exchange ideas, and learn about issues that impact day-to-day operations. The organizers of the Expo asked Boomerang to present a workshop that addresses a question they often receive from their exporters about ATA Carnets and that is, "What makes ATA Carnets better to use than other methods of temporary exportation?"
Many companies use Temporary Import Bonds (TIBs) or permanent exports for goods that will eventually be returned to the U.S., which is expensive and can significantly tie up cash flow. In our workshop for the Expo this year, we use a case study analyzing the additional costs incurred by a technology company for permanent entry of goods and eventual re-exportation and how using ATA Carnets could have saved them money and the effort needed to recover their foreign duty/tax deposited funds.

Reasons ATA Carnets are the Superior Choice for your temporary export needs.
Easily obtained.

Easy to fill out online application form. From our most recent Trustpilot review: "The applications are very easy to fill." See full review HERE.

Provides entry into 87+ foreign countries and territories import-duty and -tax free.

Unlimited use in multiple carnet countries for up to a year.

Document is issued prior to departure so; you know your costs up front and payment is made prior to departure.

Payment is in U.S. dollars and a credit card will be accepted.



ATA Carnets vs. the Rest—Comparative Chart
Other methods of temporary export such as TIB, U.S. Customs Form, Foreign Consumption Entry, Foreign Customs Broker's Entry Bond, fall short when compared to the full depth and breadth of what the ATA Carnet offers exporters. See a detailed comparative chart HERE.

Watch the Workshop Recording
A recording of our workshop, "Temporary Shipments: A Case Study on Reducing Costs, Saving Time & Preserving Cash Flow" and a PDF of the presentation are available at Massachusetts Export Center | Export Expo (msbdc.org). Simply register there to access all the Expo content.
Boomerang thanks Julia Dvorko, the Central & Western MA Regional Director-MA Export Center, for moderating the workshop and to all at the Massachusetts Export Center for hosting this informative event. We look forward to collaborating next year.
If you are looking to grow your business and expand into international markets call us. Boomerang's Carnet Specialists offer expert customer service and are here to assist you 24/7. Just call the Carnet HelpLine® 1-800-ATA-2900 |1-800-282-2900 or email us. Also, if you want to ship by cargo, Boomerang has freight forwarder partners who can deliver your carnet to you, as well as handle your freight. Ask about our Boomerang Freight Solutions® when you call or email us.
For ATA Carnet news and updates subscribe to our eNewsletter: Exportise