Smartphone App, Carnet Valet, In Beta Testing
Boomerang carnets® has developed an ATA Carnet Smartphone application called the Carnet Valet, for use with hand-carried shipments traveling under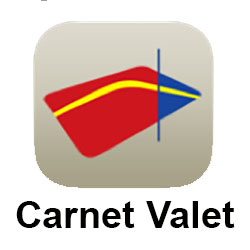 a carnet. The app is currently being beta tested by carnet users to flesh out any bugs or issues that occur in real-life situations.
Contact us if you are interested in being a beta tester. We are offering a $50 Amex gift card in return for providing feedback.
The Carnet Valet is designed to support a user while traveling with hand-carried carnet goods or equipment. Once the QR code from the carnet is scanned into the app, the carnet details including the general list is captured by the app. The user adds his/her itinerary and the app is ready to serve as a reminder tool along the way. It knows when the user:
needs to activate the carnet,
approaches an airport,
requires carnet validation,
deviates from the itinerary,
enters a new country, and
is low on certificates.
It pushes reminders to the user upon each of these triggers. The app can also track split shipments to make it easier to manage items as they are separated and then reconstituted.
Eventually, the details of the journey will be available on the Holder company's account although this feature has not been turned on during beta testing. We envision that being able to see the path a carnet/user took on a trip may help resolve a problem if the carnet is lost or a validation is missing. Carnet Valet is available for Android and iPhones.
For more information contact Andres Salaverria, V.P. IT at 847.852.3114 or at CarnetValet@ATACarnet.com..