Orchestra Conference Attendees Win Big With Boomerang Carnets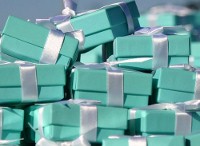 Three lucky League of American Orchestras 2016 conference attendees walked away with door prizes from Tiffany's courtesy of boomerang carnets®. The winners were:
Hillarie O'Toole, Manager, Learning and Engagement at Carnegie Hall
Kevin Smith, Operations Manager, Palm Beach Symphony
Janelle Lanz, Assistant Orchestra Personnel Manager, Minnesota Symphony
HIllarie was the recipient of a porcelain World Box, Kevin pocketed a Pen and Janelle scored a Keychain.
Congratulations to all of you and thank you for participating. For future chances to win a Tiffany door prize, be sure to see boomerang carnets® at the Mid-Winter Managers' Meeting in Dallas or next year's Annual Conference in Detroit.