International Trade Shows are More Affordable with ATA Carnets
Boomerang Gets You There and Back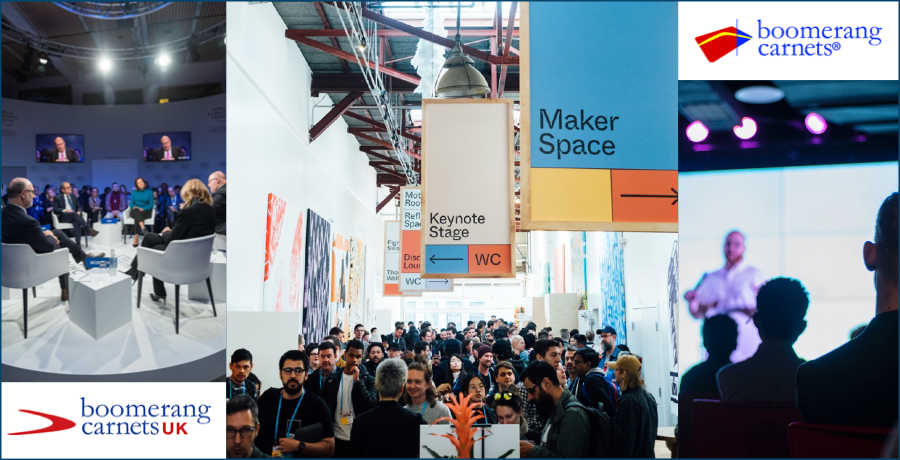 This year marked a strong return in businesses attending Trade Shows and Exhibitions in person. Exhibitor Magazine's Trade Show Calendar lists 624 in October, 563 in November, and 203 in December being held throughout the world. The Trade Show is back. They create new opportunities by allowing prospective customers to experience your product, service, invention, or presentation face-to-face live and in person. International Trade Shows drive expansion into new markets throughout the world generating opportunities to significantly grow your business. At boomerang carnets®,

we know ATA Carnets are an essential tool to exhibiting at International Trade Shows by making the temporary export of exhibits affordable for any sized company, from large corporations to SMEs. Curt E.H. Wilson, President & CEO of boomerang carnets recently explained, "The marketplace is the whole world now. Carnets open new markets to companies."
The ATA Carnet is an internationally accepted customs document for temporarily exported merchandise or goods. It allows cross border movement of those goods import-duty and -tax free into 87+ carnet countries and territories for up to a year. The ATA Carnet is known as the Merchandise Passport for boomerang freight® and ideal for Professional Equipment, Commercial Samples, and goods for display at Trade Shows, Exhibitions, and Fairs moving in and out of countries.
Attending an International Trade Show, Exhibition, or Fair requires thorough organization given the many elements required. Typical items that may be needed for Trade Shows and Exhibitions are Tables and Furniture, Floor Coverings, Electrical and Lighting equipment, Decorations and Displays, Products & Samples for display, Promotional and Brand Signage, Interactive Exhibits, Screens, Computers, Hard Drives, Trade Show Booths, and more.

You can avoid payment of import-duty and -tax when clearing customs with any of these items on an ATA Carnet. Duty and tax are determined by country specific percentages of the valuation of goods: therefore, the savings can be significant. Some companies spend millions on their booths, though it depends on the company, their size, and what is needed to represent them most effectively for a specific Trade Show, Exhibition, or Fair.
Boomerang Carnet Specialists Maximize the Benefits
Boomerang carnets' 35 years of knowledge and expertise will ensure you get the most value from your ATA Carnet. These unique international trade tools level the playing field so, no matter your size, you can take advantage of the opportunities international Trade Show exhibiting provides and compete against your biggest competitor. Shipping a trade show booth, samples, and other necessary items internationally is convenient and affordable with "The Merchandise Passport," aka an ATA Carnet.

Call us. Boomerang's Carnet Specialists offer expert customer service and are here to assist you 24/7. Just call the Carnet HelpLine® 1-800-ATA-2900 |1-800-282-2900 or email us. Also, if you want to ship by cargo, Boomerang has freight forwarder partners who can deliver your carnet to you, as well as handle your freight.
For ATA Carnet news and updates subscribe to our eNewsletter: Exportise