Grow Your Business in Scotland with an ATA Carnet
Expand your business in Scotland with Boomerang.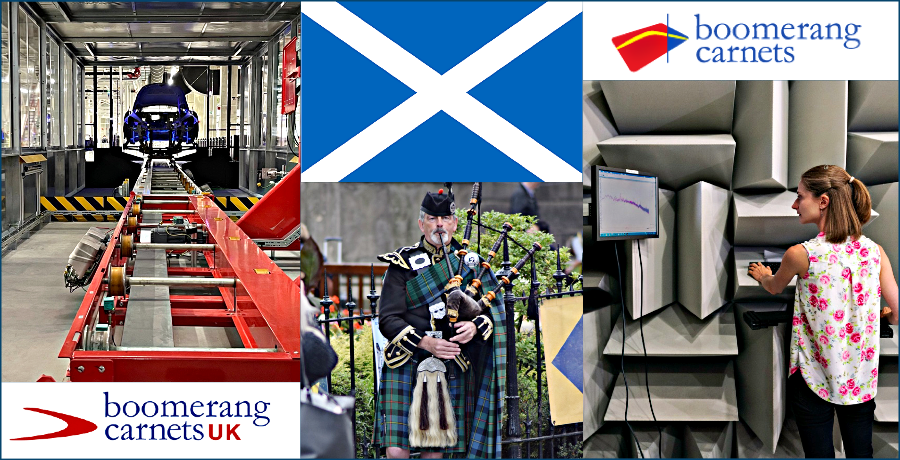 Scotland is the second largest country in the United Kingdom, covering an area of 77,933 sq. km that occupies nearly one-third of the northern part of Great Britain Island. Scotland's unique beauty is unmatched, and its industry and services attract a wide variety of business sectors to its shores. The photogenic terrain makes it a prime destination for filmmakers the world over, from the rocky Highlands to the port city of Glasgow. Scotland is also home to the Edinburgh Fringe Festival, the world's largest arts and media festival that generated more than 2.2 million ticket sales in the event's 75th-year in 2022. Oil and gas are at the top of Scotland's exports along with whisky and textiles each generating billions of pounds into the economy annually. Other leading billion-pound sectors include financial/global business services, digital and tech, creative Industries and gaming, tourism, aerospace/space, and tourism. Scotland's largest imports include office and automatic data processing machinery, power generating machinery, transport machinery/equipment, and apparel and clothing accessories. For those located outside of the United Kingdom, expansion into Scotland can begin with ATA Carnet use. For those located within the U.K., ATA Carnets are not needed. If you are thinking of expanding your business internationally, think of Scotland. The opportunities are there, and the ATA Carnet makes it affordable and easy.

ATA Carnets help businesses grow and increase profits.
The ATA Carnet is an internationally accepted customs document for temporarily exported merchandise, goods, or professional equipment and allows cross border movement of goods import-duty and -tax free into any of the 87+ carnet countries and territories for up to a year. The ATA Carnet, also known as the Merchandise Passport, is an excellent way to access Scotland as a viable market for your goods and services.
The ATA Carnets' benefits include avoidance of import-duty and -tax payment with built-in ease Clearing Customs. Using an ATA Carnet to exhibit your product/services at an exhibition, fair, conference, or convention or demonstrate your product/services can lead to new contracts.
The ATA Carnet levels the playing field so that SMEs can compete with bigger companies. ATA Carnets are affordable and easy to obtain, making any size company competitive in a multitude of sectors internationally. This is the perfect time to explore new opportunities in Scotland.

Boomerang makes it easy!
At Boomerang, we make traveling with your goods and equipment clear and simple by providing the resources and destination specific information you will need. With 36 years in the business, we understand what you want to know to make your trip as hassle free as possible.
Boomerang's Carnet Specialists offer expert customer service. We are here to assist you 24/7, just call the Carnet HelpLine® 1-800-ATA-2900 |1-800-282-2900 or email us. Also, if you want to ship by cargo, Boomerang has freight forwarder partners who can deliver your carnet to you, as well as handle your freight. Ask about our Boomerang Freight Solutions® when you call or email us.
For ATA Carnet news and updates subscribe to our eNewsletter: Exportise.