FOCUS 2022 Recap & The Boomerang Benefit for the Creative Screens Industries
Thursday, January 19, 2023
Carnet Tips from the Pros on Usage and the EU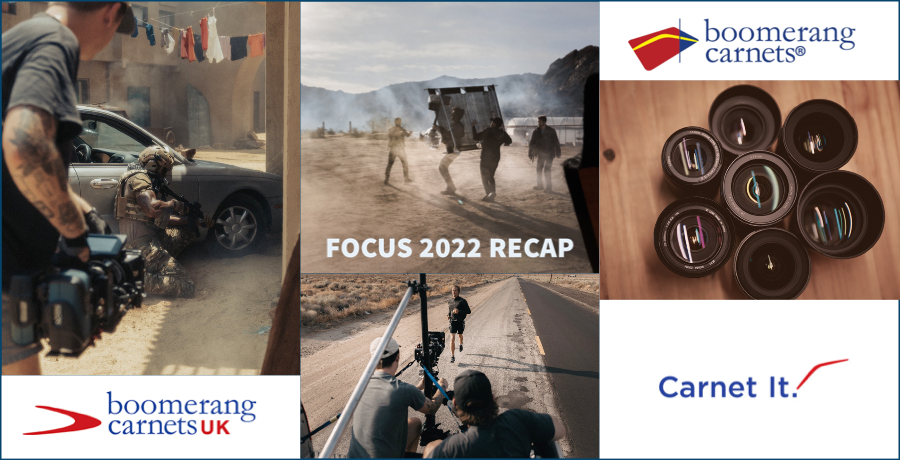 Boomerang Carnets® returned to FOCUS 2022 for our 8th year as Exhibitor in this international production conference produced by The Location Guide. It took place in-person December 6-7 in London and virtually December 8-9. The FOCUS conference, now in its eighth year, hosts thousands of production professionals across the Creative Screens Industries from over 100 countries representing film, TV, advertising, animation, and gaming. FOCUS offers a tremendous lineup of programs, meetings, networking, and conference sessions, plus it's a lot of fun.
Representing Boomerang this year was Curt E.H. Wilson, Boomerang's CEO/Founder and Eric Huyton of Media Carnets. Curt has over 35 years' experience guiding customers with their ATA Carnets in multiple industries significantly including film and TV production throughout his many years in the carnet business. Eric has over 30 years' experience as a cinematographer on international shoots and has travelled the world with his camera and equipment using ATA Carnets hundreds of times. Together they led a well-attended live presentation "ATA Carnets: The Boomerang Benefit" that covered tips and essentials on using ATA Carnets geared to the Creative Screens Industries.

The ATA Carnet is an internationally accepted customs document for temporarily exported merchandise or goods. It allows cross border movement of those goods import-duty and -tax free into 87+ carnet countries and territories for up to a year. Also known as the Merchandise Passport, ATA Carnets are used by many industries in many sectors. The ATA Carnet makes clearing Customs easier, saving you valuable time. Carnets also serve as the registration of goods with Customs upon re-entry to the U.S. or U.K. saving you additional paperwork and cost. ATA Carnets are used for camera bodies, lenses, tripods, lighting equipment, drones, UAVs, monitors, hard drives, computers, batteries, sets, props, costumes, and more.
"Just to say thank you very much for doing such a speedy turn around with the New Zealand Carnet – it looks SO smart! It's been really great working with you on this and I know I speak for the other PCs when I say there will be lots more! Thanks again and have a lovely weekend."—Alice Beer, Production Coordinator, WILDSTAR FILMS
All who attended the live session got a chance to hear Curt and Eric's insights on navigating the ATA Carnet in the field and leveraging Boomerang's unique ability to issue ATA Carnets in both the U.S. and U.K. for international productions and projects. Unfortunately, the sound on the recording this year malfunctioned during the taping rendering it unusable. We sincerely apologize for this knowing many wanted to view it at their leisure. FOCUS organizers have lent us a hand and uploaded our 2021 presentation instead. Please click here for the 2021 recorded presentation.
The presentations are very similar except 2022's content included a section on carnets to the EU. Call or email us with your specific questions, we'll be happy to guide you to and from the EU. We would also like to share some vital points for you here that Curt and Eric recommend as essential for all Creative Screens Industries carnet users, and to anyone going into the EU with an ATA Carnet.
Curt's Essential Tip:
Curt Wilson reminded everyone traveling to the EU with equipment and gear that the EU is still a 1 carnet Customs territory. "Once you enter the EU with a carnet, you'll be able to traverse through the entire EU by presenting the carnet going in and when you are coming out."
Eric's Essential Tips for Carnet Users
TIME


Allow an extra 2 hours to check in for your flight. Long queues at check in and security are always a possibility. If you get through check in quickly, great, you can relax. Better that than choosing between getting your carnet stamped or missing your flight.

Knowledge / Education


Understand what your carnet is for and how it works. Knowledge is power and can be very useful when talking to Customs Officers. Take time to teach your travelling team. This will help them to insure a trouble-free journey.

Preparation


Plan ahead whenever possible and talk to your carnet provider early in the process. This will highlight any issues that may be of concern.
If you have questions, call or email Eric directly.
We enjoyed exhibiting at FOCUS, reconnecting, and meeting new people. A big THANK YOU to all who participated in our raffle drawing! Congratulations to the lucky winner, Maddison Young, Production Coordinator at Emporium Productions! Maddison is holding the TUMI backpack she won.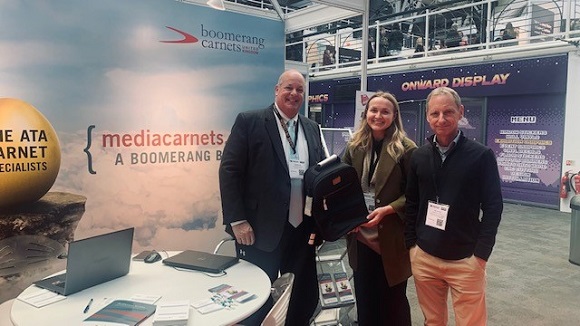 Whatever your needs, Boomerang's Carnet Specialists offer expert customer service and are here to assist you 24/7. Just call the Carnet HelpLine® 1-800-ATA-2900 |1-800-282-2900 or email us. Also, if you want to ship by cargo, Boomerang has freight forwarder partners who can deliver your carnet to you, as well as handle your freight. Ask about our Boomerang Freight Solutions® when you call or email us.
For ATA Carnet news and updates subscribe to our eNewsletter: Exportise