Customer Spotlight from the boomerang Archive: Sled Dogs Compete in La Grande Odyssée
How do you keep 84 sled dogs traveling to the French Alps safe and sound?
What do 84 sled dogs, 1,200 dog booties, 84 dog coats, 30 dog collars, 120 dog dishes, and 360 harnesses have in common? The ATA Carnet. "We've covered thoroughbred horses and circus animals, but this is a first: competition sled dogs!" said Curt Wilson, President of boomerang carnets®. Every year, teams from a dozen different countries compete in the prestigious La Grande Odyssée, the world's most challenging international dog sled race. For two weeks, teams of sled dogs and their mushers traverse more than 800 km through France, Switzerland, and Italy with a change in altitude of more than 25,000 meters.
When the American Canadian contingency approached us, their first and foremost concern was for the safety and care of their canine athletes (all 84 of them!). The potential for travel delays and entanglements are especially problematic with live cargo. The 747 aircraft transporting the canine competitors made several stops in Canada and the United States to pick up the dog team participants. On the last stop, Veterinarian Dr. Tim Hunt and his wife Mary, of Michigan, boarded the plane in Chicago with their 14-dog team (Dr. Hunt will compete as 1 of 25 mushers from around the world) and were on hand for the flight to France in case a sled dog needed emergency veterinary care. The Hunts were the only passengers on board with the flight crew and a lot of dogs.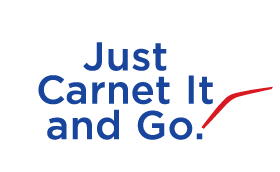 Long waits at Customs can be stressful for the dogs—speeding across the French Alps is what they are built for after all. ATA Carnets provided ease and speed through Customs on all legs of the journey and alleviated the mushers' and handlers' worry and concern for their precious much-loved teams. Boomerang carnets® assisted with the temporary export and re-import of the competition dog teams.
Boomerang carnets® is here to help with your temporary export needs. The ATA Carnet is an internationally accepted customs document for the temporary import/export of goods which includes commercial samples, professional equipment, and goods for exhibitions providing you significant savings of import-duty and -tax. In addition to providing priceless peace of mind, its many benefits have assisted companies expand into new global markets and its flexibility can easily accommodate these changeable times. Our expert customer service team is consistently rated 5-Stars in Trustpilot. Call us. We are here to help.