Boomerang Carnets Featured on Livestream Webcast for Media Pros
Boomerang Carnets' Specialists for Media, Film & TV Production

On July 28, boomerang carnets® was the featured guest on the livestream webcast Office Hours Global, a daily forum for media professionals. The Live Q&A took questions from media pros on all things "Carnets." Kiel Ursin and Eric Huyton, representing boomerang carnets, answered questions, and talked about the use of ATA Carnets when travelling with media gear across international borders.
Office Hours Global Host, Alex Lindsay, is both a fan of how we do things here and a satisfied client of boomerang carnets throughout his longstanding career in the film and television industry.

Alex began: "Many of you probably don't know what a Carnet is but if you carry a bunch of gear back and forth between different countries, you'll learn quickly. So, we're going to talk to THE specialists. They are specialists from boomerang. I have used them for years, decades, over a decade, and they are just the best. So, we are going to bring them in and answer your questions about getting gear in and out of countries—seamlessly."

What is an ATA Carnet?
The ATA Carnet is an internationally accepted customs document for temporarily exported merchandise or goods. It allows cross border movement of those goods import-duty and -tax free into 87+ carnet countries and territories for up to a year. The ATA Carnet is known as the Merchandise Passport for boomerang freight® and ideal for professional equipment, goods, or commercial samples moving in and out of countries.

Some questions answered during the webcast.
What happens if you were to lose a very expensive piece of equipment in the foreign country? Say at the bottom of a lake or a bigger than planned explosion? Would the carnet have to pay then (upon exit)?

How does boomeranging gear to Canada differ from other countries?

For very large shipments (like a major tour) is a copy of the carnet attached to each case or is there some "master file" that is sent in advance to the destination country?

Are there destination countries that are problematic and want "under the table" consideration to approve things?
Kiel Ursin and Eric Huyton are specialists in all aspects of ATA Carnet usage. Their experience covers issuance of the internationally accepted customs document for temporary exports (Kiel) and usage (Eric) with decades of experience as a cameraman traveling with and without an ATA Carnet to facilitate clearing foreign customs with equipment. Daily, Kiel and Eric provide guidance for saving the most money and time when using an ATA Carnet.

Watch Office Hours Global & Boomerang Carnets HERE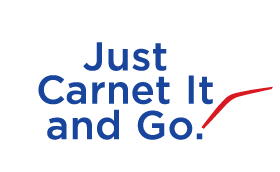 If you have questions of your own do not hesitate to contact us.

Call boomerang carnets
Boomerang's Carnet Specialists offer expert customer service. We are here to assist you 24/7, just call the Carnet HelpLine® 1-800-ATA-2900 |1-800-282-2900 or email us. Also, if you want to ship by cargo, Boomerang has freight forwarder partners who can deliver your carnet to you, as well as handle your freight. Ask about our Boomerang Freight® Solutions service when you call or email us.
For ATA Carnet news and updates subscribe to our eNewsletter: Exportise
Take a look at our Trustpilot reviews and read what other customers think of the Boomerang customer experience.