Arts Benefit from ATA Carnets by Boomerang
Boomerang carnets® could very well have served the next Jackson Pollock, Walt Disney, Annie Leibovitz, or Lin-Manuel Miranda! Artists and arts-related organizations use the benefits ATA Carnets offer to grow internationally, raise their profile, and enhance their brand with worldwide recognition. From fine art galleries to sculptors, animators, photographers, as well as musicians, theatre companies, and filmmakers, ATA Carnets assist them in taking their "show" on the road. The ATA Carnet facilitates expansion, new ticket sales, research, and exposure by allowing goods and equipment to move across borders import-duty and -tax free for up to a year! ATA Carnets level the playing field so all size arts entities and individuals benefit from carnet use, not only the "big guys". Cost savings and ease clearing Customs are two of the many benefits of carnet use. Recently, Boomerang has seen notable usage of ATA Carnets in the Arts and related fields representing a range of creative carnet users.
The ATA Carnet is an internationally accepted customs document for temporarily exported merchandise or goods. It allows cross border movement of those goods import-duty and -tax free into 87+ carnet countries and territories for up to a year. The ATA Carnet is known as the Merchandise Passport for boomerang freight® and ideal for professional equipment or goods moving in and out of countries.

THE ARTS – Here are customers who have used Boomerang for their ATA Carnet in this wide-spanning, creative sector.
An award-winning documentary filmmaker, cinematographer, and producer. The environment is a major theme in his work, and he became one of the youngest recipients to receive the prestigious Heinz Award for Special Focus on the Environment.

A sculptor whose subject matter consists of common objects we largely ignore in everyday life that have been transformed by his unique artist's vision. He works largely in silicone.

An illustrator from Canada who specializes in fantasy and anthropomorphic creations that are vivid, highly saturated cartoon-like drawings.

An illusionist, and performer who uses magic, metaphors, and sleight of hand to inspire his audiences' personal transformation.

A theater company, who is committed to producing challenging work locally and in the world.
There are many others that Boomerang served: more filmmakers, an animator, cinematographers, a portrait photographer, a boutique recording studio, a high fashion stylist, musicians, an event designer, a fine art gallery, and an Emmy winning sports film Director.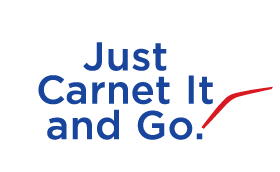 Boomerang is here for you. Achieving your artistic goals and reach in the world can be realized with the use of ATA Carnets. Many different types of customers come to Boomerang because ATA Carnets save money and provide ease Clearing Customs for ALL. If you want to cultivate opportunity and seize it, call us. Boomerang Carnet Specialists are available to answer questions and assist you 24/7, just call the Carnet HelpLine® 1-800-ATA-2900 | 1-800-282-2900 or email us.
For ATA Carnet news and updates subscribe to our eNewsletter: Exportise