ATA Carnets to India—Grow Your Business
Boomerang carnets makes it easy!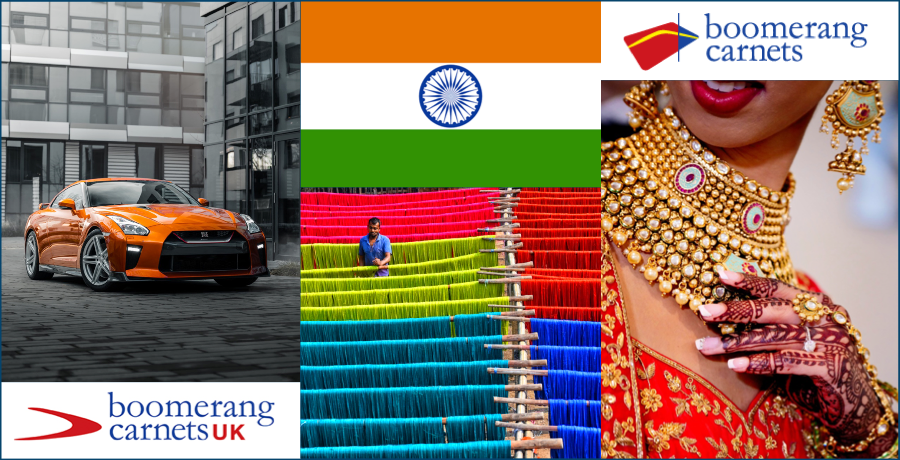 India is celebrating their 75th anniversary as an independent nation this year. It is the largest democratic country in the world and continues to surge in population and economic growth. In 2023, India is on course to exceed China's population with well over 1.4 billion people. Their strong buying power provides excellent opportunity for businesses to sell their products. The United States is India's top trading partner and is among the top ten trade partners for the U.S., generating billions of dollars annually for both countries. A wide range of U.S. companies have expanded their operations in India in a wide variety of sectors. For example, Apple already manufactures older iPhones and some iPhone 14s in India and is expected to shift up to 25% of its iPhone production to India as soon as 2025.
The ATA Carnet, also known as the Merchandise Passport, is an excellent way to access India as a viable market for your goods and services. ATA Carnets help businesses grow and increase profits. The ATA Carnet is an internationally accepted customs document for temporarily exported merchandise, goods, or professional equipment and allows cross border movement of goods import-duty and -tax free into any of the 87+ carnet countries and territories for up to a year.
India accepts ATA Carnets for all Trade Fairs and Exhibitions and in 2018 expanded its use of ATA Carnets to include Professional Equipment. Please be advised that for India:
ATA Carnets under Exhibitions and Fairs are typically limited to six months though it may extend till the Carnet expiration and must follow India's customs guideline.

ATA Carnets under Professional Equipment will be restricted to two months. Extension for an additional two months is possible and must follow India's customs guideline.
The security amount required for U.S. issued ATA Carnets going to India is 55% of the value of goods, slightly higher than other countries. The ATA Carnets' benefits include significant savings on import-duty and -tax with built-in ease Clearing Customs. Using an ATA Carnet to display and demonstrate your product/services or exhibit at an exhibition, fair, conference, or convention establishes unique bonds that can lead to new contracts. Exhibitor Magazine lists at least 70 Trade Shows in India already scheduled for 2023 spanning many sectors that includes technology, medical equipment, jewelry, textiles, aerospace, security, energy, and more.
The ATA Carnet also levels the playing field so that the "little guy" can compete with bigger companies. ATA Carnets are affordable and easy to acquire so that any size company can compete as an equal contender in any number of sectors internationally. This is the perfect time to explore new opportunities in India.
At Boomerang, we make traveling with your goods and equipment clear and simple by providing the resources and destination specific information you will need. With 35 years in the business, we understand what you want to know to make your trip as hassle free as possible. Boomerang makes it easy!
Boomerang's Carnet Specialists offer expert customer service. We are here to assist you 24/7, just call the Carnet HelpLine® 1-800-ATA-2900 |1-800-282-2900 or email us. Also, if you want to ship by cargo, Boomerang has freight forwarder partners who can deliver your carnet to you, as well as handle your freight.
For ATA Carnet news and updates subscribe to our eNewsletter: Exportise