ATA Carnets & Savings to International Trade Shows—for example, to Mexico
Use Boomerang carnets® and Grow Your Business Affordably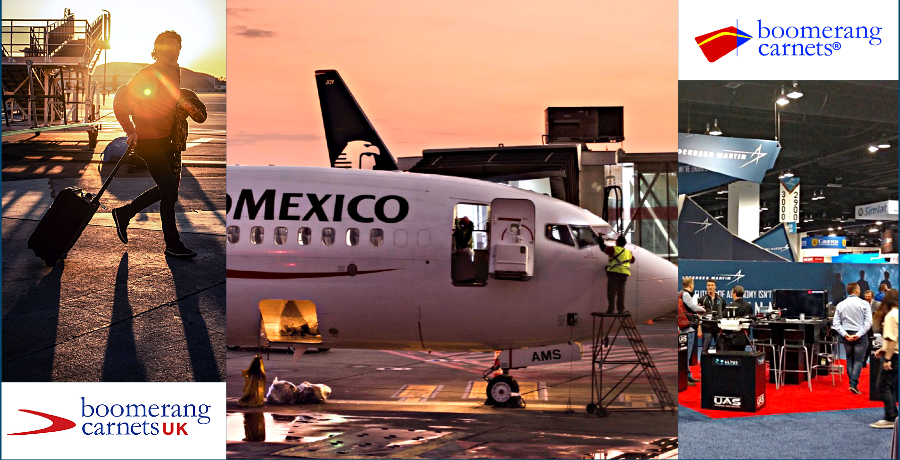 Trade shows have returned worldwide, and they are a powerful means to grow your business in new and receptive markets. Trade Shows are targeted events designed to provide participants with ample opportunities for face-to-face contact with people interested in your goods and services. There is a trade show for every industry. Exhibitor magazine lists over 4,500 trade shows scheduled globally every year. Exhibiting at an International trade show is a tried & true way to begin expansion into new markets and grow your business. Participating in an International Trade Show brings you valuable in-person contact that often seals the deal on new contracts for your goods and services. You can gather leads, grow your brand, demonstrate equipment and technology, show samples of your products, network, give a presentation, and expertly speak about your company. The opportunities are there.

Use an ATA Carnet as Your Temporary Export Method for International Trade Show Exhibiting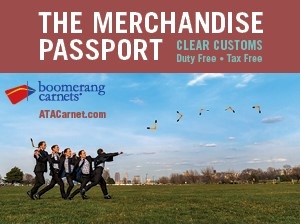 The ATA Carnet is an internationally accepted customs document for temporarily exported merchandise or goods. It allows cross border movement of those goods import-duty and -tax free into 87+ carnet countries and territories for up to a year. The ATA Carnet is known as the Merchandise Passport for boomerang freight® and ideal for Commercial Samples, Professional Equipment, and Goods for Display at Trade Fairs and Exhibitions. At the end of the year, all the items listed on the carnet return to the U.S., thus the term boomerang freight.



Save Time and Money
When you use an ATA Carnet as your temporary export method for international trade show exhibiting, you save time and money. You spend less time with customs and more time with customers. As an example, we will take a look at Mexico, because it is one of the top trading countries in the world. Two-way trade in goods and services between the United States and Mexico totaled $779.3 billion in 2022. There are forty-four major trade shows scheduled in Mexico through November of 2024 in key sectors ranging widely: Agriculture, Travel & Tourism, Sustainable Energy, Blue Economy, Logistics, eCommerce, Medical Devices, and more. To illustrate the savings ATA Carnets provide, for example, a single use of an ATA Carnet to Mexico for a medical device valued at $21,540 can save you $5,962 on one trip alone for that one item.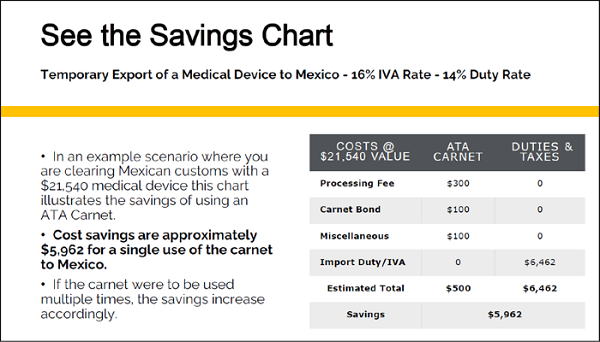 ATA Carnet use for international trade show exhibiting is one of the most expedient and economical ways to grow your business in international markets affordably. Shipping your exhibit booth, samples, and equipment on an ATA Carnet, when you add it all up, provides tremendous savings. Its benefits can be utilized by SMEs, Individuals, and Corporations to equal advantage. ATA Carnets also manage costs with a multi-show program to multiple countries.
If you have questions about ATA Carnets and the many benefits they offer, call us. Boomerang's Carnet Specialists offer expert customer service and are here to assist you 24/7. Call the Carnet HelpLine® 1-800-ATA-2900 |1-800-282-2900 or email us. If you want to ship your goods as cargo, Boomerang has freight forwarder partners who can deliver your carnet to you, as well as handle your freight. Ask about our new service, Boomerang Freight Solutions® when you call or email us.
For ATA Carnet news and updates subscribe to our eNewsletter: Exportise.

Register for an account now.