ATA Carnets & International Trade Show Exhibiting Webinar
Boomerang Carnets' Tips for Success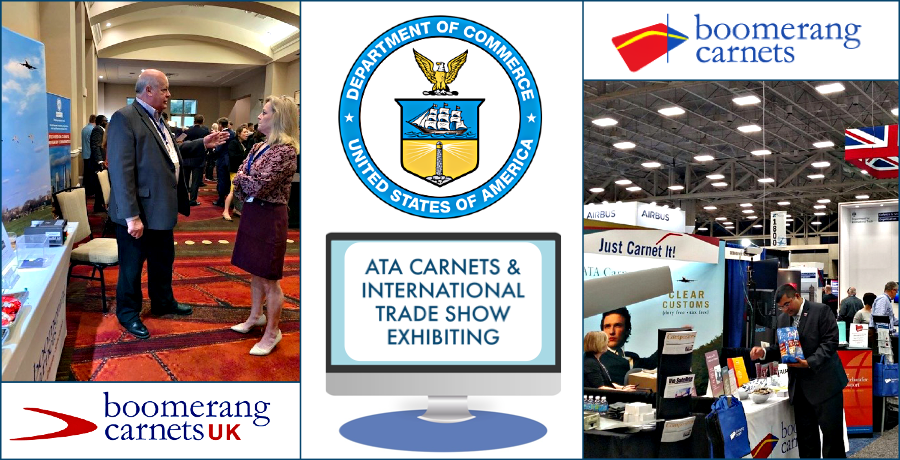 March 29 at 12pm ET / 10am MT. Register HERE.
The U.S. Department of Commerce for the Monterrey Area, Mexico will host an important upcoming webinar, ATA Carnets & International Trade Show Exhibiting, with Boomerang Carnets® presenting. The U.S. Commercial Service (USCS) for the Monterrey Area assists U.S. businesses by promoting exports of U.S. goods and services to Mexico. One of its purposes is strengthening trade ties between the U.S. and Mexico.
Trade Shows are back as in-person events. Exhibiting at an international trade show can play a vital role in growing your business. Exhibitor magazine lists 41 Trade Shows taking place in Mexico within the next year and 4,500 scheduled throughout the world. This webinar will cover ATA Carnet basics, such as, using an ATA Carnet to avoid payment of import-duty and -tax on your temporary import/export (demo equipment, samples, and display booth), saving you serious money when exhibiting at an international trade show. Carnet use makes exhibiting at an international trade show affordable and easy.

Webinar: ATA Carnets & International Trade Show Exhibiting
Date: 03/29/2023, Wednesday
Time: 12ET / 10MT
Cost: Free
Join us on this webinar and learn the easy way to temporarily export your trade show materials.

Learn about the process to ease temporary exports of exhibit booths, demo equipment, and samples.

This program is essential to new-to-market participants as well as to field service engineers traveling abroad and more.

Every year, U.S. exhibitors encounter problems taking their samples, demo equipment, tools, and exhibits to international trade shows.




Kiel Ursin, Boomerang Carnet Specialist, will present the webinar and answer questions regarding the ATA Carnet. Kiel's extensive experience and expert knowledge covers carnet usage, carnet countries, as well as foreign and domestic customs services in all industries. Kiel's expertise on the many aspects of ATA Carnet use comes from 7 years of experience at Boomerang working with a wide variety of business sectors. Kiel is also a qualified, licensed bond and insurance advisor for ATA Carnets and international travel.
The ATA Carnet is an internationally accepted customs document for temporarily exported merchandise or goods. It allows cross border movement of those goods import-duty and -tax free into 87+ carnet countries and territories for up to a year. The ATA Carnet is known as the Merchandise Passport for boomerang freight® and ideal for Professional Equipment, goods for Exhibitions & Fairs, or Commercial Samples moving in and out of carnet countries.
Boomerang carnets thanks Mario Vidaña, Senior Commercial Specialist, U.S. Commercial Service | U.S. Department of Commerce, U.S. Consulate General – Monterrey Area, Mexico, for hosting the webinar.
To join us, register HERE.
If you have questions about ATA Carnets and the many benefits they offer, call Boomerang. Boomerang's Carnet Specialists offer expert customer service and are here to assist you 24/7. Just call the Carnet HelpLine® 1-800-ATA-2900 |1-800-282-2900 or email us. Also, if you want to ship by cargo, Boomerang has freight forwarder partners who can deliver your carnet to you, as well as handle your freight. Ask about our new service, Boomerang Freight Solutions® when you call.
For ATA Carnet news and updates subscribe to our eNewsletter: Exportise