ATA Carnets and International Trade Show Exhibiting, 2 of 4
Call boomerang carnets for a Merchandise Passport.
Exhibiting at an international trade show is an effective avenue for exporters to connect with prospective customers in new markets. The meticulous preparations needed for such events can yield a substantial return on investment.
Boomerang Carnets® recently partnered with Jean Lin, Center Program Manager of the Small Business Development Center (SBDC) at the College of DuPage, to present a webinar entitled "International Trade Show Exhibiting." This informative webinar featured insights from four experts, sharing their knowledge and experience concerning international marketing through trade show exhibitions.
Showcasing your goods and services at these exhibitions allows for invaluable face-to-face interactions that can culminate in lucrative contracts in new international markets. This webinar provided in-depth coverage of four key areas:
Marketing

Movement of Equipment

Cost Management using ATA Carnets for display booths, samples, and equipment

Monetary Government Incentives
This post is the second of four installments summarizing key points from the webinar, focusing on the movement of your equipment, goods, and exhibition booth to an international trade show, a topic expertly addressed by Bonnie Jantzen, Senior Logistics Manager at Boomerang Freight Solutions®.
Bonita "Bonnie" Jantzen boasts over three decades of experience in export and logistics. Her expertise in logistics, coupled with a deep understanding of the ever-evolving regulations, proves indispensable for customers in need of a reliable partner to manage their logistics and compliance requirements.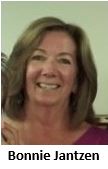 According to Bonnie Jantzen: "When packing and inventorying items, it's crucial to separate those intended for permanent import (collateral, giveaways, etc.) from items classified as temporary imports (exhibit components, demo equipment, etc.), which will leave the country after the trade show. Failure to do so can prolong the customs clearance process. The use of an ATA Carnet is essential. It not only saves on import-duties and -taxes during customs clearance but also provides crucial clarity to Customs Officers about the temporary import status of goods being utilized for the trade show."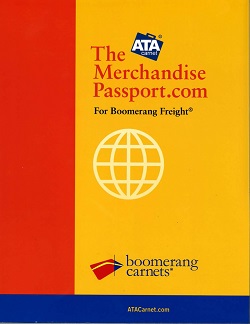 The ATA Carnet is an internationally accepted customs document for temporarily exported merchandise or goods. It allows cross border movement of those goods import-duty and -tax free into 87+ carnet countries and territories for up to a year. The ATA Carnet is known as the Merchandise Passport for boomerang freight® and ideal for Commercial Samples, Professional Equipment, and Goods for Display at Trade Fairs and Exhibitions. At the end of the year, all the items listed on the carnet return to the U.S., thus the term boomerang freight. ATA Carnet use for international trade show exhibiting is one of the most expedient and economical ways to grow your business in international markets. Its benefits can be enjoyed by SMEs, Individuals, and Corporations alike.
3 Key Components for a Successful Carnet Shipment:
Engage your freight company specialist early in the planning process to provide guidance.

Be mindful of your timeline, as ATA Carnets have expiration dates, but they offer significant advantages.

Consider prevailing logistics challenges, including limited flight and ocean options, global backlogs, and increased costs.
What is Boomerang Freight Solutions? Boomerang carnets introduced Boomerang Freight Solutions (BFS) to assist customers in navigating the complexities of international trade. BFS is our new freight service designed for carnet holders requiring logistics support, customs entry, duty management, and import services. Together, Bonnie Jantzen and Curt E.H. Wilson, President and CEO of boomerang carnets, with his over 35 years of experience with customs, trade, and the ATA Carnet business, apply their expertise to address the unique challenges of every customer. BFS identifies cost-saving opportunities, manages compliance risks associated with the global supply chain, and streamlines the ATA Carnet and surety bond process. Our Strategic Partner Network, cultivated over 35 years, provides solutions to address customs-related challenges.

Call boomerang carnets!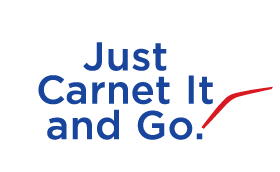 If you have questions about ATA Carnets and the many benefits they offer, call us. Boomerang's Carnet Specialists offer expert customer service and are here to assist you 24/7. Call the Carnet HelpLine® 1-800-ATA-2900 |1-800-282-2900 or email us. If you want to ship your goods as cargo, Boomerang has freight forwarder partners who can deliver your carnet to you, as well as handle your freight. Ask about our new service, Boomerang Freight Solutions when you call or email us.
For ATA Carnet news and updates subscribe to our eNewsletter: Exportise.
International Trade Show Exhibiting Blog Series—Read part one on International Trade Show Marketing here: ATA Carnets and International Trade Show Exhibiting, 1 of 4 | ATA Carnet)