ATA Carnet Advantage for Scientific Discovery and Innovation
Friday, September 23, 2022
Understanding the benefits carnets offer
Our boomerang carnets® "Advantage" series delves into and unpacks the many benefits ATA Carnets provide. The uses and flexibility of this powerful trade tool are many. The ATA Carnet is a tremendous way for companies to save money and grow their businesses into international markets. We want everyone to take advantage of their many benefits and indeed everyone can. In this ongoing series, we explain the benefits and uses of the ATA Carnet so that you can apply them to your business with ease. This month, we focus on ATA Carnets used specifically for Scientific Discovery and Innovation.
The ATA Carnet is an internationally accepted customs document for temporarily exported merchandise or goods. It allows cross border movement of those goods import-duty and -tax free into 87+ carnet countries and territories for up to a year. The ATA Carnet is known as the Merchandise Passport for boomerang freight® and ideal for professional equipment, goods, or commercial samples moving in and out of countries. The ATA Carnet is a tremendous trade tool for growing your business and brand.
World Exposure for Scientific Discovery and Innovation via ATA Carnets
ATA Carnets serve the scientific community and innovators in multiple disciplines and applications. Businesses, organizations, inventors, and educational institutions alike take full advantage of the benefits ATA Carnets provide. They are utilized for the exchange of new ideas & technology, research, conducting experiments, as well as demonstrations of pioneering machinery, joint projects, and more. Boomerang's customers reflect a wide variety in the Sciences, their innovations, and discoveries:
Educational institutions frequently use ATA Carnets to share new technology and ideas, demonstrate medical advancements, conduct field research and experiments, and participate in robotics competitions where innovation is key.
Pharmaceutical companies use ATA Carnets as part of the requirements for approval. ATA Carnets were recently used for a groundbreaking Alzheimer's drug that needed verified documentation to prove that the drug could withstand being exported for a set amount of time and remain viable and intact upon re-importation.
Scientific Device/Machine/Vehicle companies use ATA Carnets for a number of reasons. They include, for example, measuring toxins in our oceans, tracking changes in weather patterns, monitoring telecommunications instruments in aerospace, utilizing submersible vehicles to survey the ocean floor, and for demonstrating new medical devices that advance imaging, operations, and procedures.
Environmental sustainability enterprises that use ATA Carnets include a company whose revolutionary and sustainable way to clean the hulls of ships has already eliminated millions of tons of CO2 from our environment and collected 100,000 kg of biofouling and alien invasive species from the ocean.
Drone Companies use ATA Carnets to introduce their advanced technology into international markets. A California-based company used ATA Carnets to "demo" and test their highly innovative and unique drone delivery platform in Switzerland for transporting samples between hospitals, labs, and universities. They have since expanded to Japan, Abu Dhabi, and the EU.
ALL Can Benefit from ATA Carnets by Boomerang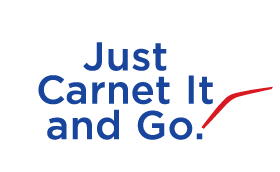 Boomerang is here for ALL no matter the size of your company or enterprise. You can expand your innovations, discoveries, and business goals with the use of ATA Carnets. Call us. Boomerang's Carnet Specialists offer expert customer service and are here to assist you 24/7. Just call the Carnet HelpLine® 1-800-ATA-2900 |1-800-282-2900 or email us. Also, if you want to ship by cargo, Boomerang has freight forwarder partners who can deliver your carnet to you, as well as handle your freight.
For ATA Carnet news and updates subscribe to our eNewsletter: Exportise