Cyber Protections for Carnet Customers at Boomerang
Your convenience and security are our priority at boomerang carnets®. We know it is critical to safeguard your ATA Carnet application every step of the way as each carnet document lists valuable items and other information that is both sensitive and confidential. Boomerang is committed to ease and security in issuing carnets for all the international business transactions you have planned.
The ATA Carnet is an internationally accepted customs document for temporarily exported merchandise, goods, or professional equipment. It allows cross border movement of goods import-duty and -tax free into 87+ carnet countries and territories for up to a year.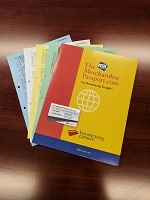 Boomerang was the first to have an online application accessible with the single-click convenience from our website. With our eye on the future, customers experience a streamlined electronic carnet application using proprietary software.
Our IT professionals designed and developed the boomerang carnets® online application with security as a top priority. The application utilizes the most robust encryption, in which plain data (e.g., a password, an e-mail message) is converted into a series of nonsensical characters derived from a mathematical formula. Our emails are all transferred through secure channels also using encryption. Over the years, thousands of carnet applications have arrived at boomerang carnets® without a single breach of security.
We are General Data Protection Regulation (GDPR) compliant. GDPR, implemented in May 2018, is a regulation in European Union law on data protection and privacy in the European Union and the European Economic Area. It also addresses the transfer of personal data outside the EU and EEA areas. None of the customer sensitive data is stored in our systems.
Be assured that our application process and your communications with boomerang carnets® and boomerang carnets® UK are confidential and secure. We maintain the highest posture to do what is necessary to protect you. You can proceed with confidence knowing that any information you provide is safe, secure, and protected with appropriate defenses from cyberattack and breach.
Boomerang's Carnet Specialists and Customer Service and Sales Reps provide expert customer service. We are here to assist you 24/7, just call the Carnet Helpline® 1-800-ATA-2900 |1-800-282-2900 or email us . Also, if you decide to ship your equipment, goods, or merchandise as cargo, instead of hand-carry or accompanying baggage, Boomerang has freight forwarder partners who can deliver your carnet, as well as handle your freight.
For ATA Carnet news and updates subscribe to our eNewsletter: Exportise